School is Cool
Try-out albumrelease 'Brittle Dream'
Monday 31 October 2022
20:30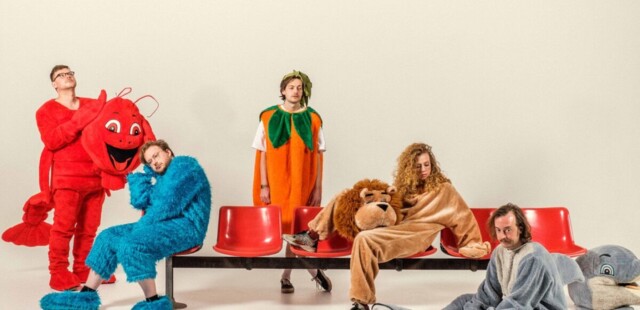 Program already took place.
Venue info
Standing audience Type of audience
19:30 Doors open from
Prices
€ 18,00 Presale price
€ 14,00 Presale price students *
31/10/2022 17:30 Presale ends at
€ 20,00 Entrance price
€ 16,00 Entrance price students *
Share on facebook
School is Cool

TRY-OUT 'BRITTLE DREAM'
"Plaat vijf?! Zijn we nu echt al zo lang bezig?" vraagt Johannes Genard. "Ik heb het gevoel dat ik nog maar net snap hoe het in elkaar zit". Terwijl album nummer vier, Things That Don't Go Right, in maart 2020 virtuoos gekortwiekt werd door de pandemie, begon Genard te schrijven aan de volgende. "Als je niet doorploetert, geef je je gewonnen." zegt hij. Het geploeter werd een collectie van dertien emotionele, energieke songs, met de typische weirde School is Cool-keuzes en veel spelplezier.
Brittle Dream zal de plaat heten en de sfeer binnende groep is beter dan ooit. "Nadat Matthias Dillen, onze drummer sinds het prilste begin, de groep verliet, is Niels Meukens inmiddels ingespeeld en volledig geacclimatiseerd. "Zijn diep muzikaal inzicht en bereidheid om zich op korte tijd in een nieuw project in te werken was imposant om mee te maken", aldus Johannes. "Zijn bijdrage op het album was aanzienlijk!".
Na 'Things That Don't Go Right' in 2020, de vierde plaat van School is Cool - die zijn tevens zijn naam niet gestolen had - ging het toch best de goede richting uit. Na de hits 'Close' en 'On the Haflway Line' is het tijd voor een nieuwe langspeler. Met hun laatste singles 'Comfort' en 'Uh-huh' kregen we al een voorproefje van wat komen zal. In het najaar van 2022 komt de band met een nieuwe plaat. Het album zal verfrissend klinken zonder dat de vertrouwde School is Cool-sound moet onderdoen.